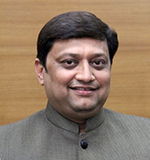 Prof. Himanshu Pandya
Chairperson, Indian Institute of Sustainability
Prof. (Dr.) Himanshu Pandya, is appointed as 17th Vice Chancellor of Gujarat University. Born on 8th November 1971, he started his academic carrier in 1995 as a Lecturer. He has teaching experience of 27 years. During his long career as an academician, Prof. Pandya has coordinated more than 310 academic programs and more than 180 publications of national and international repute. Mr. Pandya is MSc, PhD Botany and areas of specialization In vivo and In vitro studies on physiological and biochemical parameters on Gladiolus, Chrysanthemum and Lily Title: In vivo and In vitro.
He has received President's award for National Service Scheme (NSS) by Hon. President of India, Shri Ramnath Kovindji on behalf of Gujarat University at Rashtrapati Bhavan, New Delhi. He is also instrumental in establishing Technology Business Incubator (TBI) for more than 100 startups - one of the largest zero-day zero-cost coworking spaces in the country funded by Department of Science and Technology (DST). His efforts have resulted in Gujarat University to become the only state aided university in the nation to have an Atal Incubation Centre (AIC) funded by Atal Innovation Mission, NITI Ayog, New Delhi.
He has also drafted national policy for Forensic Council of India, Student Startup and Innovation Policy (SSIP), Choice Based Credit System (CBCS), Anti-Plagiarism Policy, MPhil/PhD Ordinances, Fee Review Committee document for Universities, GU-Consultancy Cell (GUCC), Council for Skill and Innovation (CSI), etc.
As a scientist, he is working on developmental methods for utilization of novel techniques in plant sciences, bioinformatics, forensic biology and climate change impacts management. He has always strived to ensure that research conducted and guided by him is aimed to address fundamental needs of the society as well as inter-disciplinary initiatives since last 23 years.