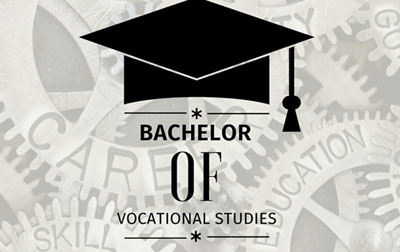 Overview
Bachelor of Vocational Studies (B. Voc) is a specialised undergraduate bachelor's degree that qualifies graduates as vocational instructors or corporate trainers in public schools. A Bachelor of Vocational Studies is a degree that is basically equivalent to a B. Voc or BVE. This degree prepares students in agriculture, business, computer and information technology, health professions, marketing, and industrial arts domains.
B. Voc seeks to provide the necessary abilities for a certain trade. The course differs from standard academic programmes. It emphasises application-based research rather than theoretical understanding. B. Voc is a three-year undergraduate programme that may be pursued in a variety of professions, including healthcare, food technology, and hospitality, as well as creative fields such as graphic design and beauty and wellness. One of the most significant advantages of pursuing a BVoc over a traditional degree programme is that a candidate has several exit opportunities and ongoing industry exposure. Aside from that, the candidate's work experience earned during the course boosts their chances of landing a job.
The programme attempts explicitly to:
Communicate in written, oral, and visual form in a clear, succinct, and accurate manner that accomplishes the goal and satisfies the demands of the audience.
Respond in a way that enables successful communication to written, oral, or visual signals.
Accurately carry out mathematical procedures.
To tackle difficulties, use a methodical approach.
Anticipate and solve difficulties using a range of cognitive techniques.
Using suitable technology and information systems, locate, select, organise, and document information.
Analyse, evaluate, and apply pertinent data from various sources.
Respect others' differing perspectives, beliefs, belief systems, and contributions.
Interact with people in groups or teams in ways that promote productive working relationships and goal attainment.
Manage your time and other resources to get the job done.
Innovative Features of the Program
Global benchmarking, industry partnership and many faculties from the industries.
Ensure that all content areas have access to high-quality, standards-aligned programming.
The course is offered in both Gujarati and English.
Utilize pedagogical approaches aligned with current understandings of bilingual language and literacy development.
Obtain critical theoretical information in order to better grasp contemporary rural development concerns, as well as how to use this knowledge to successfully interact with communities and related organisations.
Develop crucial research and policy skills to help you advance your career and become a rural sustainability specialist.
Significant field exposure to give hands-on experience and action orientation.
Short and precise lecture content that gives a new prospective towards environmental sustainability.
Provides a diverse range of career options in a variety of fields. Individuals can work for the government, the financial sector, as well as private businesses and institutions.
It offers a variety of field-related job opportunities to its students, ranging from agronomist to researcher to rural officer and banker.
Learning Outcomes:
Its major goal is to provide pupils with self-sufficient knowledge so that they can live a dignified life.
To promote craft-focused education in India
To provide vocational training to pupils so that they may live responsibly in society.
Students' capacity to make a living should be developed so that they can properly fulfil their family commitments. practices
To grow the country and guide societal transformation in the proper path.
To improve the country's economic structure and per capita income.
To encourage the increase of educational opportunities
To provide appropriate bridge courses that allow for professional growth, career advancement, and lateral admission into general, technical, and professional education courses.
Scope of the Program
Such job-oriented training is beneficial to the economy and assures that no additional training is required in the future. Labour allocation in the country may be greatly improved with vocational coaching. Vocational training may both prepare a person for a career and increase work efficiency. It makes it simpler to find work that matches a person's skills, expertise, and talents. It increases the market value of a job applicant. It is a non-academic instruction that can help you become an expert in a given field. Vocational education courses are becoming more popular nowadays, as businesses prefer candidates who are well-trained and knowledgeable about their jobs. Entrepreneurial skills can also be improved through vocational education courses. Individuals can gain the necessary knowledge and abilities to set up their own work space. It can assist him or her in developing job-specific abilities. Such abilities might aid him in developing a new service or product for clients.
Job Profile
Career Options after completing Bachelors in Vocational Studies -
Sales Manager
Workforce Coordinator
Restaurant Manager
Team Supervisor
Placement facilitator
Facility Manager
Vocational Training Associate
College Counsellor
Electrical Maintenance Engineer
HOW TO APPLY
Candidate wishing to get admission in this program need to apply at the website www.iisg.ac.in
For other enquiries visit to www.iisg.ac.in
Also visit www.gujaratuniversity.ac.in
Fee: 23,410 INR/Semester
Duration- 3 year
Eligibility criteria
Eligibility Criteria Candidates willing to take up B. Voc for higher education should meet the following eligibility criteria: They have to pass 10+2 from a recognised board or university.
Pedagogy
The courses are delivered through a mix of modern teaching techniques such as Case Study Method, Lecture Method, Seminars, Field Visits, Group Projects, Role-Playing, Experiential Learning and simulated exercises to give the students an opportunity to learn by doing. The actual mix varies with the nature of a course. For effective learning, this requires students to play an active role in the class sessions. The students will be required to do a fair amount of practical work by the way of project work, field investigation and case analysis besides library reading and contact hours. Students' participation in the programme inside and outside of class will be evaluated on a continuous basis.