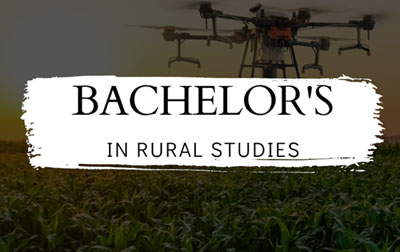 Overview
The study of rural economics, agribusiness, planning, organising, and managing co-operatives and companies in rural regions, as well as related topics, is referred to as rural management. For individuals who want to enhance the country's agriculture industry and make it a key contributor to the economy beyond farming, this profession provides a wide range of job prospects. In today's India, new technology is being used in every area to make better use of resources and increase quality and productivity. The agriculture industry is the only one that is falling behind. Bachelor of Rural Studies provides the most up-to-date approaches and procedures, which will help to develop the sector significantly.
The Bachelor of Rural Studies (BRS) is a three-year programme. The course's goal is to equip graduates to engage in rural development by helping them understand the challenges that influence the rural economy and working to improve the situation via education, community mobilisation, and policy implementation. The subject was introduced to the Indian academy with a focus on the importance of the rural economy to the larger Indian economy. The rural economy, statistics, collaboration, panchayat, animal husbandry, agriculture, horticulture, research work, political science, and entrepreneurship are among the topics covered by the degree.
The programme attempts explicitly to:
The programme has been designed to provide participants a knowledge and hands-on experience with several facets of rural development.
Provides a comprehensive view of central government schemes/programs in general and state government schemes/programs in particular.
competence in rural development programme design and management, with an emphasis on participatory development.
Students can work as Social Workers or Community Mobilizers in Rural Development Organizations / Institutions
Students can learn how to start a Small-Scale Industry in rural regions with the help of State Government Institutions.
Gain an understanding of rural development strategies and philosophies
Learn to develop rural development concepts, indicators, and methods
Gain insight into other countries' rural development experiences by explaining diverse rural development projects throughout the pre-independence period.
Innovative Features of the Program
Global benchmarking, industry partnership and many faculties from the industries.
Ensure that all content areas have access to high-quality, standards-aligned programming.
The course is offered in both Gujarati and English.
Utilize pedagogical approaches aligned with current understandings of bilingual language and literacy development.
Obtain critical theoretical information in order to better grasp contemporary rural development concerns, as well as how to use this knowledge to successfully interact with communities and related organisations.
Develop crucial research and policy skills to help you advance your career and become a rural sustainability specialist.
Significant field exposure to give hands-on experience and action orientation.
Short and precise lecture content that gives a new prospective towards environmental sustainability.
Provides a diverse range of career options in a variety of fields. Individuals can work for the government, the financial sector, as well as private businesses and institutions.
It offers a variety of field-related job opportunities to its students, ranging from agronomist to researcher to rural officer and banker.
Learning Outcomes:
To get an exposure to a new rural area and the socio-economic condition of people
To face the rural reality during the rural living and learning experience
To provide knowledge from ancient to modern agricultural practices
To impart in-depth practical knowledge in crop cultivation practices
To cope with adverse situations during their rural staying at different remote parts of rural Bengal.
To provide knowledge on working of different farm implements
Detailed knowledge on various agri-business activities
To build the manpower for serving the rural community
To disseminate recent agricultural technologies through extension.
To have a hand on experience in some rural project projects related to their curriculum. The project work will be given by the organisation according to their requirement. The students will learn through this assignment while organization may be benefitted from the results of the project.
Scope of the Program
BRS graduates have a lot of job options in rural regions, notably in the public sector. Under the banner of "skill India," the central and state governments have launched a slew of rural development initiatives in the areas of education, health care, cottage industries, animal husbandry, agriculture, horticulture, and entrepreneurship. According to the rules and regulations of the respective state governments, candidates have a good chance of joining these departments. They can also become entrepreneurs by starting a small business. After B.R.S., one can pursue higher education. After BRS, you can pursue a Master of Rural Studies (MRS), a Master of Business Administration (MBA), or a Master of Social Welfare (MSW).
Job Profile
Career Options after completing the course in Bachelor of Rural Studies -
Sales Manager
Research Officer
Rural Executives
Rural Manager
Senior Program Officer
Trainer
Researcher
Consultant
Project Co-ordinator/Project
Rural Minister
HOW TO APPLY
Candidate wishing to get admission in this program need to apply at the website www.iisg.ac.in
For other enquiries visit to www.iisg.ac.in
Also visit www.gujaratuniversity.ac.in
Fee: 23,410 INR/Semester
Duration- 3 year
Eligibility criteria
The minimum eligibility is an intermediate (10+2). Bachelor of Arts is a vast field and offers various courses, and rural development is one of them.
Pedagogy
The courses are delivered through a mix of modern teaching techniques such as Case Study Method, Lecture Method, Seminars, Field Visits, Group Projects, Role-Playing, Experiential Learning and simulated exercises to give the students an opportunity to learn by doing. The actual mix varies with the nature of a course. For effective learning, this requires students to play an active role in the class sessions. The students will be required to do a fair amount of practical work by the way of project work, field investigation and case analysis besides library reading and contact hours. Students' participation in the programme inside and outside of class will be evaluated on a continuous basis.